The SAFRAN (Safety Assessment Framework) is a user-friendly software application that incorporates the methodologies developed within the IAEA SADRWMS and CRAFT projects.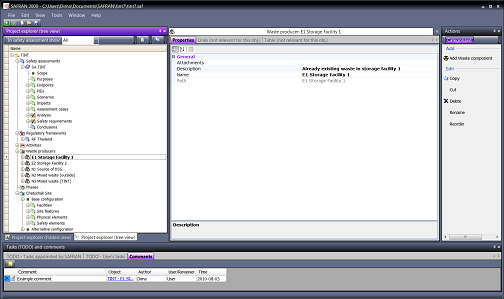 SAFRAN User Interface
Possible use of SAFRAN: Conduct Waste Characterisation; Visualise waste management schemes Guidance in conducting safety assessments; Support in quantitative assessments;Perform integrated studies.
Potential users of SAFRAN: Managers of radioactive waste facilities; National regulators in the nuclear and environmental fields; Government departments responsible for emergency response; International organizations; SA professionals and consultancies; Enterprises developing radioactive waste management solutions.
Benefits of SAFRAN: To assist in performing systematic and structured safety assessments in compliance with Safety Standards; To manage information and data in the same medium; To demonstrate compliance with regulatory criteria; To provide a common platform for regulators and operators to perform and review safety assessments and discuss results effectively